Positive contribution
to human well-being and the environment
Corporate

Social

Responsibility
It is our intrinsic belief that we must make a positive contribution to the welfare of people and the environment. Our activities meet the needs of the present generation without jeopardizing the potential of future generations.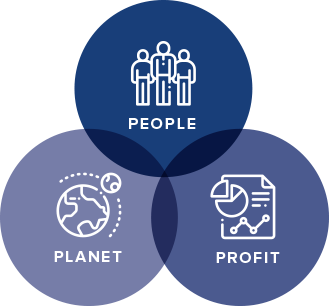 Below you can see what our results so far have been

We offer employment to people who have difficulty finding a job under normal circumstances.
Recognized training company by the Sectoral Institute for Transport and Logistics.
Recognized Ecabo training company.
Approved traineeship company for Hanze University College
We offer browsing work placements for high-school students from Almelo and Hoogezand.
Production of fire hose boxes subcontracted to the Winschoten Social Employment Agency.
A covenant in which all Van Ginkel group staff undertake not to use their smartphone while driving a vehicle.

Participant and driving force in Fairtrade in the municipality of Winsum.
When our suppliers offer their annual contracts, we require a CSR presentation.
Fairtrade coffee in the canteens.
We are working towards far-reaching cooperation with our partners, where we want to share our knowledge and experience.

All of our waste is sorted before disposal and is suitable for reuse.
We're a collection point for scrap plastic pipeline systems.
All of the lighting in our company buildings has been replaced by LED lighting.
Gas-fired HCV boilers in Hoogezand have been replaced by a pellet boiler in combination with a heat pump.
An additional step taken every year to reach a better position on the CO2 performance ladder.
Since July 1, 2018, we've been replacing all company vehicles with 100% electric cars at the end of their service life. Currently, 6 of the 11 leased vehicles are 100% electric.
Procurement of green electricity and gas.
Communication is becoming increasingly digital, reducing paper consumption.
All the packaging materials we use are 100% recyclable.
At our Hoogezand branch, we are participating in the so-called "Koploperproject". For more information go to www.koploperproject-groningen.nl
Solar panels were installed at the Haaksbergen site in early 2020. They have a combined capacity of 35,700 kWh/year.
The Middelwijk firm in Hoogezand is the company that cleans our Hoogezand location. They only use 100% natural cleaning agents.
De Groene Klaver maintains the grounds around our Hoogezand location. They do not use chemical pesticides or tools with internal combustion engines.
Do you have any questions?
Contact the Van Ginkel Group